Welcome to Careerist Review!
If you're looking to kickstart a rewarding career in the tech industry, you've landed in the right place.
In this article, I'll discuss the ins and outs of Careerist to help you fast track your goals in the tech industry.
It is a platform that has been making waves as the go-to destination for individuals seeking high-paying tech jobs, even without a tech background.
Whether you're a recent graduate, a career changer, or someone simply looking to advance in the tech field, Careerist aims to provide you with the tools and support, necessary to achieve your goals.
So, let's go through with the article and discover how Careerist can fast-track your journey to a high-paying tech job.
Careerist Review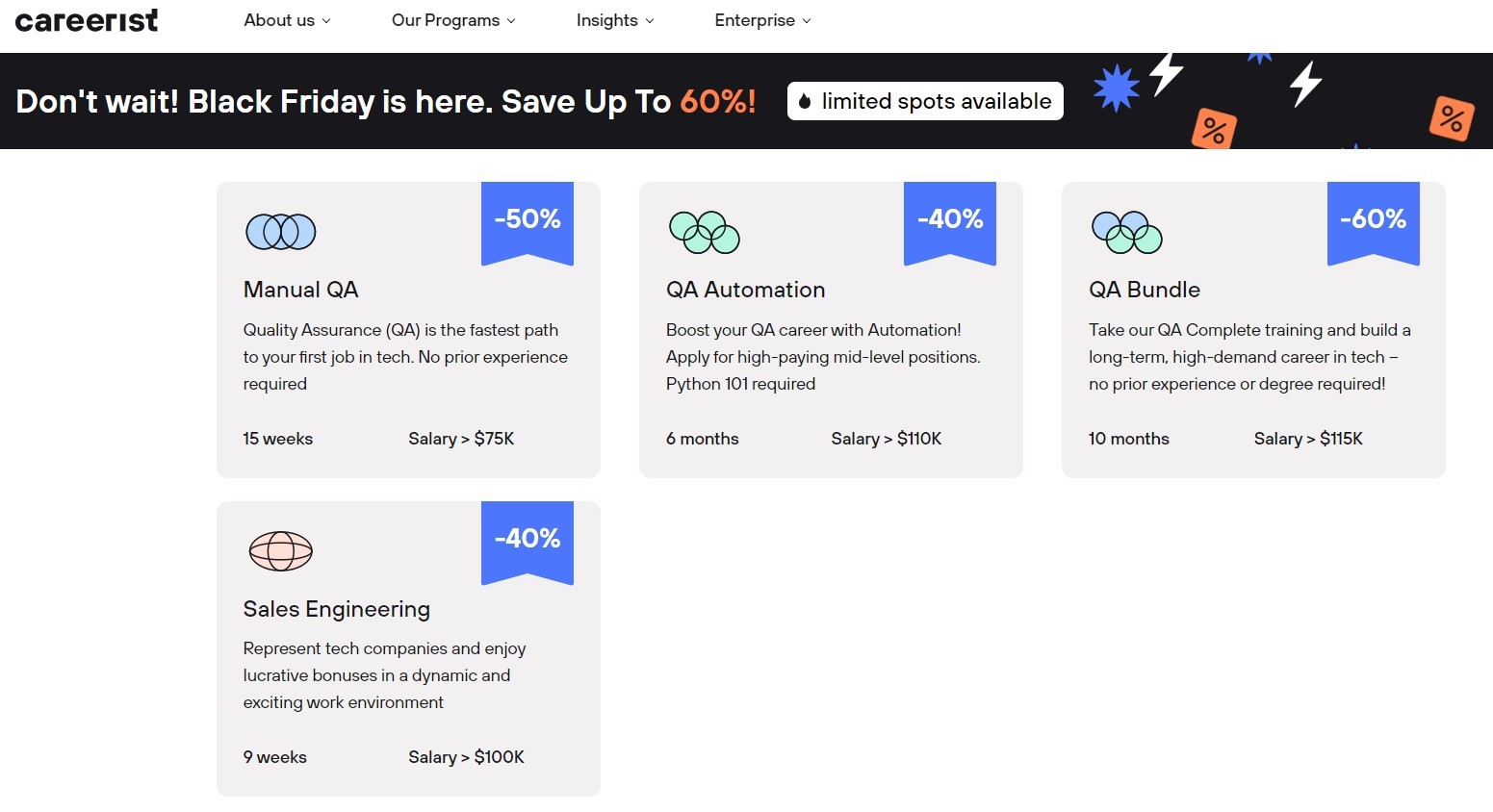 Careerist serves as a bridge, connecting people from diverse backgrounds to the dynamic and lucrative world of technology.
Their mission is to empower individuals with the skills and knowledge needed to be a part of the tech industry.
You might be wondering about your chances of developing into a proficient tech professional by enrolling in Careerist's courses.
These training programs are designed to provide you with the essential skills and knowledge needed in the tech industry.
Whether you're starting from scratch or looking to level up your tech career, these programs offer a promising path.
The "fast-track" approach means you can acquire the necessary skills in a time-efficient manner.
In as little as a few weeks or months, you'll find yourself well-prepared to take on roles like Quality Assurance (QA), Sales Engineering, UX/UI Design, and more.
But it's not just about acquiring skills.
Their dedicated career services, including job search assistance and support from industry experts, significantly enhance your prospects of landing a tech job.
The available Careerist programs are:
Manual QA
This course equips students with the knowledge needed to secure positions with salaries exceeding $69K–$105K a year.
A 15-week journey designed for tech industry newcomers to land a job
Earn a tech salary without coding experience
Provide real-world insights, making the learning process both engaging and effective
More details about the program: Enroll Now 50% OFF! | Careerist Manual QA Course
QA Automation
The Careerist Quality Assurance Automation Certification may give you the opportunity to earn an average starting salary of $110-170K per year.
24 weeks of learning with 6 well-designed modules
For everyone with entry-level knowledge or experience in Manual QA
Industry expert instructors
More details about the program: Enroll Now 40% OFF! | Careerist QA Automation Course
QA Bundle
With this bundle course, you can prepare yourself enough to get an average of $115K per year.
10 months course duration with an average of 6–8 hours per week
For anyone seeking a comprehensive understanding of QA in tech
Offers an in-depth exploration of QA, setting the foundation for a long-term career in the tech industry
Backed by a thorough education from seasoned tech professionals
More details about the program: Enroll Now 60% OFF! | Careerist QA Bundle Course
Sales Engineering
You can learn this Sales Engineering full tech course without coding and may earn an average of $100K a year.
9 weeks of studying and an internship simulator
No prior sales or tech experience needed
Industry expert instructors
Tech Mentorship and 1:1 Career Coaching
More details about the program: Enroll Now 40% OFF! | Careerist Sales Engineering Course
Data Analytics
The Careerist Data Analytics course will give you a chance to get an average salary of up to $121K.
7.5 months of learning, internships, and career coaching
Only basic computer and math skills are required.
Industry expert instructors
High demand and the best career growth
More details about the program: Careerist Data Analytics Course | Not available now.
UI/UX Design
UI/UX design training will give you a chance to get an average salary of $98K.
28 weeks program including classes, internship, and Сareer Сoaching
Open for anyone highly motivated to work in tech
Tech without coding, great for beginners
More details about the program: Enroll Now 40% OFF! | Careerist UX/UI Design Course
Careerist Job Search and Application Service
The job application service by Careerist is a standout feature, simplifying the often-overwhelming process of job hunting in the tech sphere.
Careerist's approach to fast-tracking careers in the tech industry is unparalleled.
They equip learners with not just knowledge but also the right tools and strategies for rapid career advancement.
This approach has consistently resulted in successful job placements
Through personalized guidance and strategic tools, they ensure that every candidate is well-prepared for success in the tech industry.
This hands-on support is a game-changer for those looking to break into competitive tech roles.
Careerist Money Back Guarantee
Careerist has established itself as a leader in tech education.
With comprehensive courses, expert instructors, and unwavering support, it's an excellent choice for anyone looking to break into or advance in the tech industry.
The money-back guarantee reflects Careerist's confidence in their ability to help students succeed.
This guarantee underscores their commitment to quality and results, ensuring that students feel secure and supported throughout their learning journey.
User experiences and reviews of Careerist paint a picture of success and satisfaction.
These testimonials highlight the effectiveness of these programs in helping individuals land a job in the industry.
---
Wrapping Up: Careerist Review 2023
In conclusion, Careerist stands out as a revolutionary platform for those aiming to enter or advance in the tech industry.
With its exceptional courses, personalized job application service, and reassuring money-back guarantee, Careerist has proven to be a valuable associate in the job market.
The sales engineering program and other specialized courses, led by expert instructors, provide not just education but a pathway to real opportunities.
The glowing reviews from numerous satisfied learners are a testament to Careerist's effectiveness and commitment to success.
FAQ's
What is the alternative to Careerist?
When considering alternatives to Careerist, especially for those seeking education and training in the tech industry, it is tough enough to find one that provides a package from learning to achieving a leading career path. Moreover, you may try some alternatives that offer various courses and programs in tech-related fields like-
Coursera
Codecademy
edX
LinkedIn Learning
What is Careerist com?
Careerist.com is an online education platform that specializes in career training for the tech industry. It's particularly known for its focus on helping individuals transition into tech careers, even for those who may not have a background in technology. Here are some key aspects of Careerist.com:
Tech Industry Focus: Careerist.com primarily offers courses related to the tech industry, such as Quality Assurance (QA), QA Automation, and Sales Engineering. These courses are designed to prepare students for specific roles within the tech sector.
Courses for Beginners and Advanced Learners: The platform provides courses that cater to both beginners and those with some level of tech experience. For instance, their Manual QA course is tailored for beginners, while the QA Automation course is more suitable for those with a basic understanding of programming.
Practical and Career-Oriented Training: Careerist.com emphasizes practical skills and real-world applications. The courses are structured to not only teach the technical aspects but also to prepare students for the job market. This includes resume preparation, interview coaching, and job placement assistance.
Money-Back Guarantee: A notable feature of Careerist.com is its money-back guarantee, which adds a level of assurance for students. This guarantee typically stipulates that students can receive a refund if they do not secure a job within a certain period after completing the course.
Mentorship and Support: The platform often provides mentorship from industry professionals and ongoing support, which can be crucial for students transitioning into a new field.
Flexible Learning Options: Careerist.com offers courses that can be taken online, providing flexibility for students who may be working or have other commitments.
Community and Networking: Students have the opportunity to connect with peers, alumni, and professionals in the tech industry, which can be valuable for networking and career growth.
You may also like:
If this post was helpful, please share it with your friends, family, and social media so that they get this information!